Warrenton Christmas Parade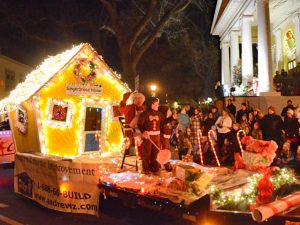 We are pleased to announce that the 2021 Christmas Parade on December 3rd at 6pm in the Town of Warrenton will be back on Main Street!
We will continue to closely work with all agencies to ensure the parade operates in such a way that health and safety for our participants and the community is the top priority, but your favorite nighttime parade is back. 
Numerous illuminated parade entries will line up preparing to parade down Main Street from 5th Street to Pelham Street for the annual event. Mr. & Mrs. Claus will usher in the holiday season waving and bringing joy to kids of all ages. 
The parade will be followed by songs from Allegro School of Music and then Mayor Carter Nevill illuminating the Town of Warrenton's Christmas tree so carefully decorated by the Rotary Club of Warrenton. Then, the skies over our amazing community will be illuminated with bright fireworks to pain the sky for the holidays.