Warrenton Christmas Parade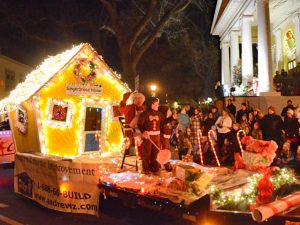 We are pleased to announce that at this time we are moving forward in planning the 2020 Christmas Parade on December 4th in the Town of Warrenton. However, we are fully aware that with the uncertainty of COVID-19, events can drastically change or be canceled by the Town or State at any time.
We will continue to closely work with all agencies to ensure the parade operates in such a way that health and safety for our participants and the community is the top priority.
This year we have reimagined the traditional Old Town parade to a "Reverse Parade" format. Floats will be parked and displayed along Main Street and attendees will drive by and view from the safety of their vehicles. This approach will allow for spacing between parade entries and no direct contact with the public. We are working with the Town of Warrenton to finalize times and details.
We are encouraging all our floats to "Light Up the Season!" in an effort to brighten the night and everyone's spirits as we continue our Warrenton, Virginia tradition alive!
We will also host a virtual Christmas tree lighting with Mayor Carter Nevill and Mr. & Mrs. Claus at a date to be confirmed also.
Congratulations to the 2019 Warrenton Christmas Parade Winners
Clarke W Griswold Award: Fauquier County, Virginia Environmental Service's
Most Original: Fauquier High School Teens & Tots
Judges Choice: Cub Scout Pack 1166 Warrenton, VA